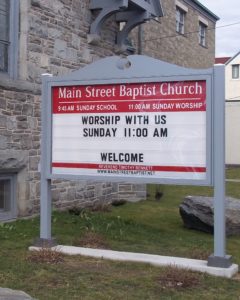 The ministry at Main Street Baptist Church is focused upon:
1) The worship of the Lord of scripture
2) The building up of God's people in the truth of scripture and
3) The evangelism of those outside of Christ
Jesus said of the scriptures, "they testify of me".
Our desire is that the central message of the Bible, that is, the truth about the Person and Work of the Lord Jesus Christ, be clearly communicated in all our public services through the God-appointed means of preaching and teaching, resulting in the praise and glory of God as people are brought into his kingdom and built up in the faith.
If you are new to Main Street Baptist Church click the Visitor tab for more information. We would love to have you visit and look forward to meeting you at one of our services.